Testimonials About Our St. Louis Children's Dentists
We believe that our patients' parents are the best judges of the quality and service of our dentistry! Read what our patients are saying about us below.
"The dentists are extremely sensitive to common fears kids have about going to the dentist, and made my child comfortable on his first visit to the dentist. He also loved the movie that was playing in the theatre".
- Vera
"The facility at Children's Dental Theatre is so impressive; it's a warm and friendly environment, and the theatre is awesome. It has a huge movie screen and theatre seating".
- Charles
"What a novel idea, go to the dentist and enjoy the latest children's movie".
- Harry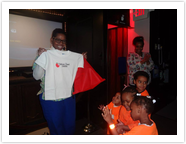 Dear Ms. Williams,
We appreciate what you do to educate our community kidz about the importance of good dental health!
- Mrs. Emma Johnson, Director
- Ms. La Tonya, Assistant Director
- Ms. Jasmin, Lead Teacher
- Ms. Ashley, Teacher's Assistant

- The Staff at KidZ Learning Zone